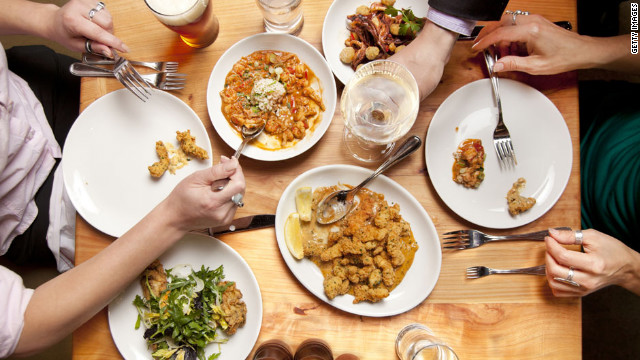 People tend to consume more calories and fat in restaurants than they do when eating at home, studies suggest.
By Anne Harding, Health.com
updated 11:40 AM EST, Tue January 10, 2012STORY HIGHLIGHTS

Women in study lost average of 3.75 pounds, ate 300 fewer calories per day
Changes in eating behavior seemed to carry over from restaurants into the home
"Mindfulness" is a meditative frame of mind that involves practicing awareness

(Health.com) -- Supersized portions and high-calorie dishes in restaurants are often blamed for contributing to America's obesity epidemic, and for good reason. People tend to carry more body fat if they eat out frequently, and they tend to consume more calories and fat in restaurants than they do when eating at home, studies suggest.

Eating 200 or 300 extra calories in a restaurant once or twice a week may not seem like a big deal, but those calories can add up.

"The restaurant is a high-risk food environment," says Gayle Timmerman, Ph.D., a nursing professor at The University of Texas at Austin who studies eating patterns. "There's a pretty good chance if you eat out frequently you're likely to gain weight over time."

How can people fend off these extra calories? We can stay away from restaurants altogether, of course, but for most of us that's not a viable -- or particularly appealing -- option. A small new study, led by Timmerman and published this week in the Journal of Nutrition and Education Behavior, offers another potential strategy: mindful eating, a series of dining techniques that stress close attention to the enjoyment of eating and feelings of hunger and fullness.
Here are some tips to try on your own:

Think twice before ordering. People can fall into a rut of eating the same dishes at the same restaurant, or they may say yes without thinking if a waitress suggests an appetizer, Albers says. Mindful eating involves "breaking those autopilot habits that we have around eating," she says.

Make each calorie count. Think about what you really love to eat, and save your calorie budget to spend on those foods, Timmerman advises. "Does that cheese on the burger really make it for you? If not, that's about a hundred calories," she says.

On the side, please. Gravy, salad dressing, butter -- if you can ask for something on the side, do it. "Then you have control of how much...you really need or want on there," Timmerman says.

Think before you eat. Before you dig in, take a moment to ask yourself how hungry you are on a scale of 1 to 10, and how that hunger matches up with what you've got in front of you. Remember, you don't have to clear your plate.

Pay attention. "When you're eating, really be aware of... the sight and the texture and the taste of food," Timmerman says. "We go out to eat because it's enjoyable, it's pleasurable, it tastes good -- all of that. If you're really paying attention, maybe you don't have to eat the whole basket of fries; you can eat just a handful."

Slow down. It can take our bodies up to 20 minutes to register the fact that we're full -- and during that time we're often continuing to stuff ourselves. Proponents of mindful eating recommend taking your time, chewing your food carefully, and treating a meal as a leisurely stroll rather than a race.

Drop the fork. While you're eating, put your fork down for a moment and assess how you're feeling. "We get into such a habit of picking up the fork and putting food in our mouths, without even checking in with ourselves to see, 'Am I still hungry, or am I full?'" Albers says.